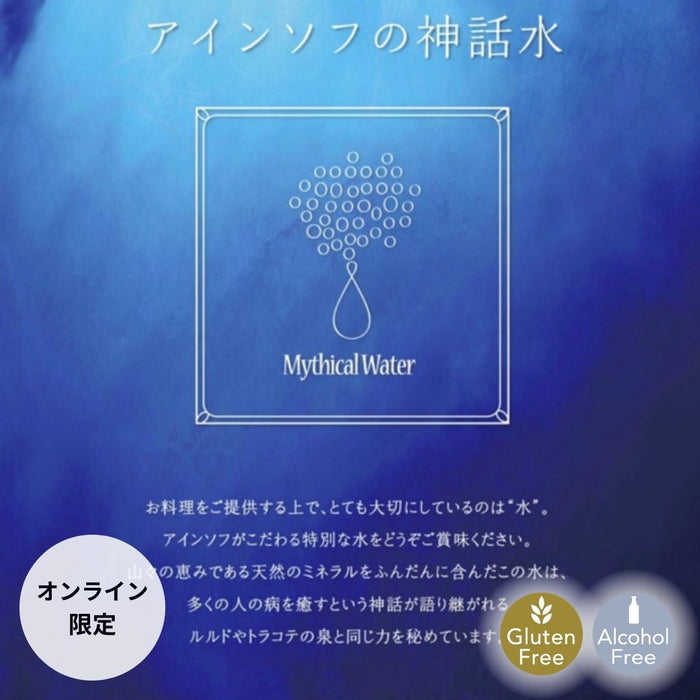 Ain Soph's water at home "Mythical Water"
Original price
¥16,500
-
Original price
¥16,500
※※Confirmation of shipping date※※
Shipping date is limited.
Please be sure to check this before ordering.
☆ Reproduce miraculous water with tap water at home ☆

in serving food,
The most important thing is "water"

Please enjoy the special water that AIN SOPH is particular about. Rich in natural minerals from the mountains, this water has the same power as the springs of Lourdes and Tracote, which are said to heal many people's ailments.


Mythical Water is a delicious water supplement. Japan is a country where tap water is available everywhere in homes and facilities. Just by submerging the cartridge in tap water, Mythical Water transforms it into delicious and highly functional water.

☆Mineral supply☆
It's not just water, but it's efficient because you can take calcium and magnesium at the same time. Just like a supplement!

☆Hard water but easy to drink☆
It is hard water with a hardness of around 300, but unlike the general image (difficult to drink, etc.), it is very easy to drink. Excellent absorbency due to the cluster effect!

☆ Zero chlorine ☆
The tap water in Japan has cleared 50 inspection items and is very excellent water. The only concern is chlorine.
Mythical Water has completely neutralized the chlorine and taken it with water as calcium content.
*Tap water from the Yokohama City Waterworks Bureau has been tested for water quality by an institution designated by the Minister of Health, Labor and Welfare.

☆Protect from active oxygen☆
Because it contains a lot of "hydrogen" that protects the body from active oxygen, which is said to cause aging and illness,
Great for anti-aging and health promotion!
*Suisoing has been patented in Japan as a structure for producing high-hydrogen-concentration water.

"""easy! How to make water It is very easy to make mythical water. Just pour tap water into the container shown in the picture (the cartridge supports up to 10 liters, so please put it in your favorite container) and submerge the cartridge.
A water supplement is ready in 5-10 minutes!
After that, you can drink it as a water supplement for about 2 months by adding tap water.

》》》How to drink effectively When you feel thirsty, your body is dehydrated.
Try to stay hydrated as often as possible.
Also, when you wake up, you may be in a state close to dehydration, so
It is recommended to hydrate before going to bed and when waking up.

》》》It is recommended that you use it not only for drinking water, but also for cooking.
The cluster effect helps bring out the flavor of the ingredients. Effective for beauty.
Please use it when washing your face and as a lotion.
Furthermore, when replacing cartridges, if you put the used cartridge in the bath, it will quickly turn into a hot spring!?
Relax in a mineral bath that warms you to the core.
It is eco-friendly as it can be used up to the end without producing waste such as plastic bottles.

Brown rice can be cooked plumply without smell.
Fine particle clusters make your skin beautiful.
Chill in the refrigerator with the cartridge inside.
Ain Soph herbal tea is also mysterious and delicious.

Ingredients: Silver, Black Shoal, Liture, Magnesium Mineral, Calcium Mineral, Activated Carbon


cancellation policy

*Due to the characteristics of the product, we cannot accept cancellations, exchanges, delivery date changes, or returns after ordering due to customer's convenience. Thank you for your understanding.
Shipping method

※※Confirmation of shipping date※※

Shipping date is limited.
Please be sure to check before ordering.

●Usually, we ship on Tuesdays and Fridays.
・Orders from (Tue) to (Thu) 23:59 → Ships next Tuesday ・Orders from (Fri) to (Mon) 23:59 → Ships next Friday

●Only the pudding will be delivered separately. Shipping will be on Wednesdays and Fridays.
・Orders placed by (Tue) ~ (Wed) 23:59 → Shipped next Friday ・Orders placed (Thu) ~ (Mon) 23:59 → Shipped next Wednesday