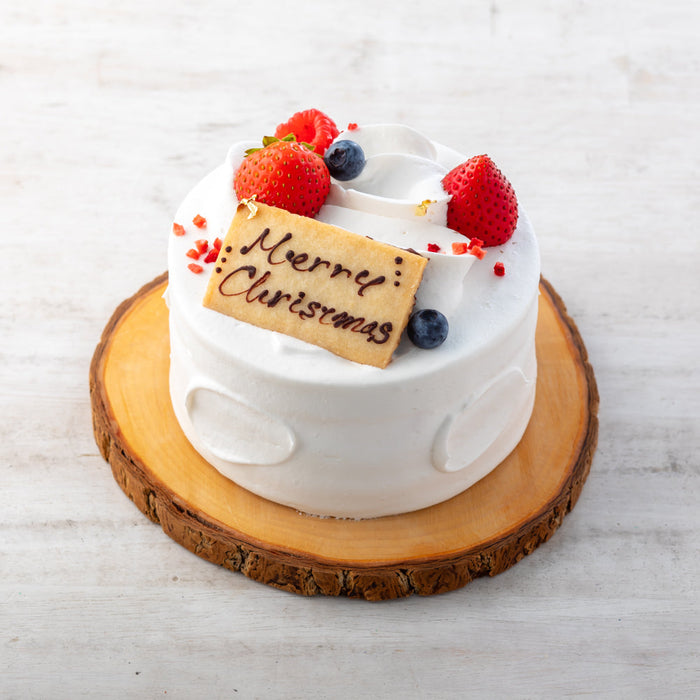 Pick up on December 24th Strawberry Christmas Shortcake (12cm)
Original price
¥6,000
-
Original price
¥6,000
Availability:
in stock, ready to be shipped
Availability:
in stock, ready to be shipped
Availability:
in stock, ready to be shipped
※【クリスマスケーキ】ご注文前にお読みください※

ケーキ等の店舗引き取り商品は「カートに追加」し、備考欄にて必ずご指定ください。
各店舗の営業日の以下の時間内でご記入をお願いいたします。

【お引取可能時間】
11:30〜20:00の間(16:00〜18:00を除く)
※銀座店のみ、日〜火曜日は11:30〜19:00の間
【ギフト対応商品】熨斗の付け方

無料で熨斗をお付けいたします。
・『季節のギフト対応商品』は、商品ページにてご選択いただけます。
・「お中元」「お歳暮」「お年賀」以外の熨斗は、別途「熨斗専用ページ」よりご選択可能です。
*This is the page for <Strawberry Christmas Shortcake (12cm) for pick-up on December 24, 2023> .
For other dates and other types of cakes, please order on a separate page.
Size 5 (diameter 15cm) is also available on a separate page.
gluten free
By soaking three kinds of berry sauces into a rice flour sponge and sandwiching them with special custard cream, we bring out the deliciousness of strawberries to the fullest.
Made gluten-free.
Enjoy a special moment with AIN SOPH.'s vegan Christmas cake.
*Size: No. 4 (12cm diameter)
*Ingredients: soy milk, rice flour, soy milk cream, beet sugar, rapeseed oil, almond powder, lemon juice, cornstarch, vanilla, arrowroot starch, baking powder, baking soda potato starch, Taihaku sesame oil, organic chocolate, strawberries, blueberries, raspberry, gold leaf
(Contains soybeans and sesame)
*Please check the cancellation policy.
*If you choose bank transfer or convenience store payment, please be sure to make the transfer within the deadline. Your reservation will be confirmed once the payment is completed, so if the payment is not received, your order will be cancelled.
*If you do not pick up your reservation within the specified day, it will be treated as a cancellation. We cannot accept refunds, so please be careful not to forget to pick up your items.
*You can pick up your order at our 3 Tokyo stores (Ginza store, Shinjuku store, Ikebukuro store).
*Please enjoy the cake on the day you receive it.
※※Confirmation of shipping date※※
Shipping date is limited.
Please be sure to check this before ordering.
cancellation policy

*Due to the characteristics of the product, we cannot accept cancellations, exchanges, delivery date changes, or returns after ordering due to customer's convenience. Thank you for your understanding.
Shipping method

※※Confirmation of shipping date※※

Shipping date is limited.
Please be sure to check before ordering.

●Usually, we ship on Tuesdays and Fridays.
・Orders from (Tue) to (Thu) 23:59 → Ships next Tuesday ・Orders from (Fri) to (Mon) 23:59 → Ships next Friday

●Only the pudding will be delivered separately. Shipping will be on Wednesdays and Fridays.
・Orders placed by (Tue) ~ (Wed) 23:59 → Shipped next Friday ・Orders placed (Thu) ~ (Mon) 23:59 → Shipped next Wednesday