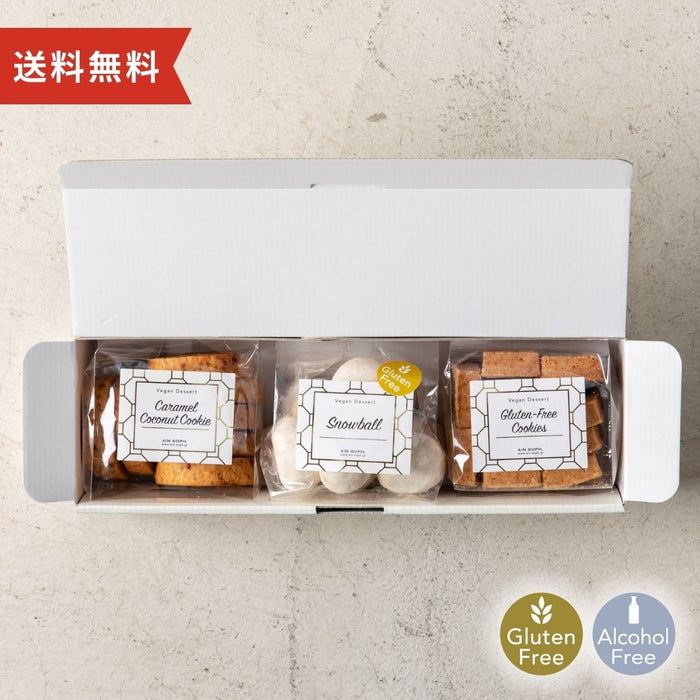 Gift S [Water] ーSUIー
Original price
¥4,000
-
Original price
¥4,000
※※Confirmation of shipping date※※
Shipping date is limited.
Please be sure to check this before ordering.
gluten free
PATISSERIE GIFT S [Water] ーSUIーIt will continue to exist forever, like indispensable water.

An assortment of 3 types of popular brown rice cookies, snowballs, and caramel coconut cookies.
All are gluten-free.
vegan
*set content
・Snowball 1 pack
・Brown rice cookie 1 pack
・1 pack of caramel cookies

*If the ordered item is a gift, we will write the name of the client in the margin of the front slip.
*If you purchase items with a specified shipping date at the same time, they will be shipped according to the later shipping date*
*Gluten-free products are manufactured on the same equipment as products containing wheat.


[Pesticide-free brown rice cookie]
*Ingredients: pesticide-free brown rice flour, organic coconut oil, almonds, beet sugar,
maple syrup, organic soy milk, vanilla powder, sea salt
* Contents: 150g (11 pieces)

[Snowball]
*Ingredients: Rice flour, almonds, beet sugar, organic oatmeal, potato starch, Taihaku sesame oil, / leavening agent (aluminum-free) (partially contains almonds and sesame)
* Contents: 90g (9 pieces)

[Caramel Coconut Cookie]
*Ingredients : Almonds (US), rice flour, beet sugar, white sesame oil, organic coconut fines, potato starch, walnuts, sea salt / swelling agent (aluminum-free) (contains sesame and walnuts)
* Contents: 7 pieces

*Preservation method: Store at room temperature, avoiding direct sunlight and high temperature and humidity
* Expiration date: 2 months from the date of manufacture
cancellation policy

*Due to the characteristics of the product, we cannot accept cancellations, exchanges, delivery date changes, or returns after ordering due to customer's convenience. Thank you for your understanding.
Shipping method

※※Confirmation of shipping date※※

Shipping date is limited.
Please be sure to check before ordering.

●Usually, we ship on Tuesdays and Fridays.
・Orders from (Tue) to (Thu) 23:59 → Ships next Tuesday ・Orders from (Fri) to (Mon) 23:59 → Ships next Friday

●Only the pudding will be delivered separately. Shipping will be on Wednesdays and Fridays.
・Orders placed by (Tue) ~ (Wed) 23:59 → Shipped next Friday ・Orders placed (Thu) ~ (Mon) 23:59 → Shipped next Wednesday