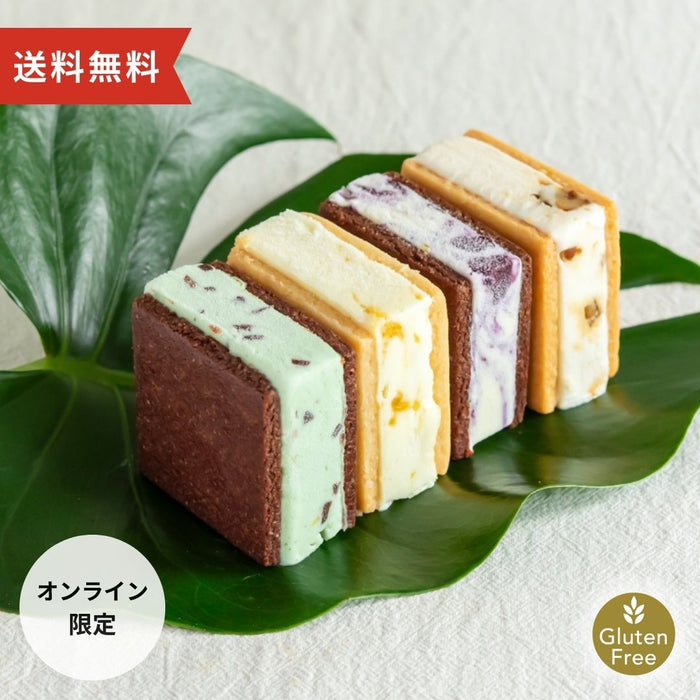 Cookie Ice Sand (2023 Winter Spring)
Original price
¥2,700
-
Original price
¥4,100
※※Confirmation of shipping date※※
Shipping date is limited.
Please be sure to check this before ordering.
*"Gluten-free cookie ice cream sandwich" was introduced on Kotrip .
*──────────────────────────*
gluten free
《Please choose from 4 pieces or 8 pieces. 》
Vegan ice cream sandwich from the popular Ein Sof!
It is a limited time item that you can enjoy the flavor according to the season. I want you to enjoy various flavors at once. I made each one smaller.
Cute square size.
Crispy gluten-free cookie sandwiched with 100% plant-based original ice cream.

The four flavors this time are...
● "Rum Chocolat"
●[Berry & amp, Berry]
● "Marron Glace"
● "Coffee Scotch"

As a family gift,
As a reward for yourself for your hard work!
gluten free 🌱 vegan
※※Confirmation of shipping date※※
Shipping date is limited.
Please be sure to check this before ordering .

YouTube! [Vlog] Gluten-free VEGAN ice cream sandwich that you want to eat after a long holiday afternoon

We take great care in shipping our products by frozen delivery, but please store them in the freezer as soon as possible after delivery.
*This is a frozen flight.
================================================== =

*Ingredients :
Cookies: Rice Flour, Almond Poodle, Beet Sugar, Taihaku Sesame Oil, Organic Oatmeal, Potato Starch, Cocoa Powder, Sea Salt/Leaving Agent
Ice cream: organic soy milk, maple syrup, organic agave syrup, beet sugar, rapeseed oil, soybean flour, cocoa powder, strawberries, raspberries, chestnuts (from France), organic raisins, almonds, organic coffee, vanilla beans, agar, liquor, sea salt/ph adjuster, emulsifier, stabilizer
(Partly contains soybeans and almonds)
*Contents : 8 pieces
*Preservation method : Requires freezing (below -18°C)

Manufactured on shared equipment with products containing wheat.
<Preservation method, expiration date>
*Preservation method: Store in freezer
*Expiration date: 2 months from the date of manufacture</p>
cancellation policy

*Due to the characteristics of the product, we cannot accept cancellations, exchanges, delivery date changes, or returns after ordering due to customer's convenience. Thank you for your understanding.
Shipping method

※※Confirmation of shipping date※※

Shipping date is limited.
Please be sure to check before ordering.

●Usually, we ship on Tuesdays and Fridays.
・Orders from (Tue) to (Thu) 23:59 → Ships next Tuesday ・Orders from (Fri) to (Mon) 23:59 → Ships next Friday

●Only the pudding will be delivered separately. Shipping will be on Wednesdays and Fridays.
・Orders placed by (Tue) ~ (Wed) 23:59 → Shipped next Friday ・Orders placed (Thu) ~ (Mon) 23:59 → Shipped next Wednesday